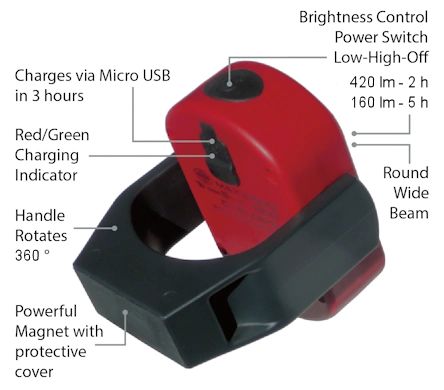 WorkStar® 800 CYCLOPS
Product Summary: Palm sized LED Inspection light featuring a round 420 lm beam
Is CYCLPOS aka WorkStar® 800 the perfect mini work light? Yes! Completely unique, this USB rechargeable light features the latest LiPo (Li-ion Polymer) battery technology in a rugged, ABS body, making it a professional quality tool that fits in the palm of your hand. On High, it produces a 420 lm round white beam with a run time of 2 hr and on Low it produces 160 lm with a run time of 2 hr!
The WorkStar® 800 recharges in only 3 hr and includes a red/green "Charge" indicator LED, a USB port and an USB cord.

The sturdy handle rotates 360 degrees, with 12 intended positions. It can be used as a stand to support or aim the light, or the handle can hang from a hook, or the magnetic base can be fastened to any ferrous metal surface. The magnetic base is covered with a protective coating.
It's the perfect cordless inspection light for HVAC and auto techs, as well as other trades like plumbers and electricians, plus DIY handymen and campers, etc.

Featured Products