WorkStar® 621 Technician's Rechargeable Headlamp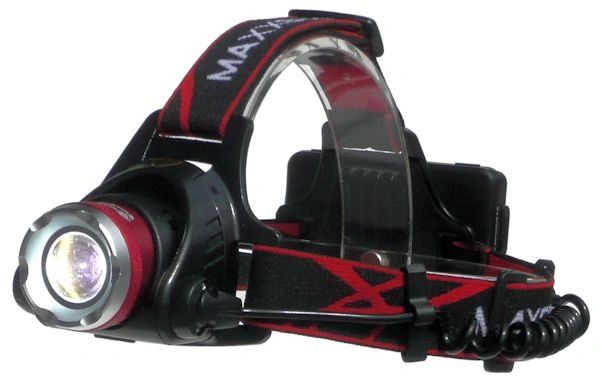 WorkStar® 621 Technician's Rechargeable Headlamp
Optional Accessory: WorkStar® 601 Extra Battery Pack (MXN00601) – Extend the run time of the headlamp by quickly swapping a charged battery pack for a depleted pack.
Product Summary: 700/400/150 lm, 2x18650 Li-ion cells, 6X zoom, 90 degrees tilt

The MAXXEON WorkStar® 621 Technician's Rechargeable Headlamp is a high performance LED light with an output greater than 700 lumens on High, in the flood position. It features a light head that not only pivots up and down, but has an adjustable 6X zoom lens allowing you to focus the beam from a wide flood beam to a narrow spot. With the light at the front and the batteries at the rear, the weight is evenly distributed, making it easy to wear for extended periods of time. A single switch allows you to cycle through Low/Medium/High/Off.
The WS621 features a number of great new improvements. The battery pack is now removable with the addition of a connector between the battery pack and light and improved strain relief on the cords. We now include a 4 ft extension cable, so you can clip the battery pack on your belt or pocket, if you don't want the pack on the back of your head. And we now offer separate battery packs, WorkStar® 601 (MXN00601), in case you need to have a spare pack charged and ready to swap out with the original pack, if you need to use the High setting for extended periods. The charge port is now a micro USB jack, so you can charge the headlamp any where there is a USB jack.
• Rugged aluminum alloy casing
• 3 brightness levels: High, Medium, Low
• High: 700 lumens, 2 hour run time
• Medium: 400 lumens, 4 hour run time
• Low: 150 lumens, 8 hour run time
• Adjustable 6X zoom lens for flood or spot lighting or anything in between
• Light head aims forward and pivots down 90 degrees with 4 indent positions
• Comfortable, adjustable headband; headband can be removed to wash or replace
• Includes 4 plastic clips to secure headband to hard hat
• Evenly distributed weight balance
• Recharges without removing the batteries
• Includes 4 ft extension cable so battery pack can be clipped on belt
• Charging input is now a micro USB jack
• Charging indicator is now located on battery pack
• Recharges without removing the batteries
• 6 hour charge time
• Includes UL-approved 100-240 VAC, 50/60 Hz world power supply with USB output


Featured Products