WorkStar® 314 UV 395nm Leak Detection Penlight/Inspection Light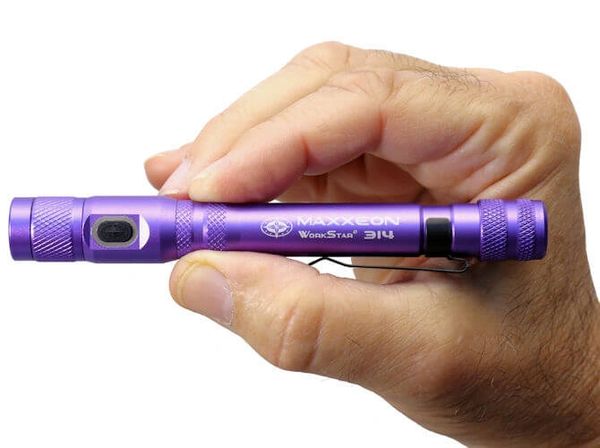 WorkStar® 314 UV 395nm Leak Detection Penlight/Inspection Light
Product Summary:
 520mW @ 395nm, 2xAAA alkaline batteries, 3X zoom lens
The MAXXEON WorkStar® 314 has an output of 520mW and a run time of 30 minutes continuous operation. It is is brighter and has a longer run time than ordinary UV LED inspection lights. At 395nm, the WorkStar® 314 is a true UV penlight that is compatible with all (395nm) fluorescent leak detection dyes. The new 3X zoom lens adds extra flexibility to adjust the beam width to suit the application. And the applications are endless:

     • A/C refrigerant dye leak detection
     • Fluorescent hand stamp verification
     • Dog, cat & rodent urine stain detection
     • Hunters following animal trails (urine)
     • Restroom cleanliness inspection
     • Document and lab analysis
     • Crime scene investigation
     • Hairline crack detection
     • Paint authentication
     • Currency verification
     • Bacteria detection
     • Gem inspection
     • UV curing
     • Even scorpion hunting

The side mounted On/Off switch is located right under your thumb for ease of operation. It uses constant current electronics to extract the maximum run time from 2 AAA alkaline batteries.
The WorkStar® 314 UV 395nm Leak Detection penlight/inspection light is designed for daily use by technicians in demanding shop, manufacturing and maintenance environments. The tough aluminum body is anodized violet and is virtually indestructible. All threaded joints have rubber O-ring seals so it is IP67, dust tight & waterproof to 3 ft. The rugged nose mounted switch is rated at 100,000 cycles and is sealed to avoid contamination by dirt and grit. It is 5" long, 5/8" in diameter and weighs 2 ounces.
The WorkStar® 314 has a 1 year warranty against manufacturing defects.
Featured Products