WorkStar® 310 LED Penlight/Inspection Light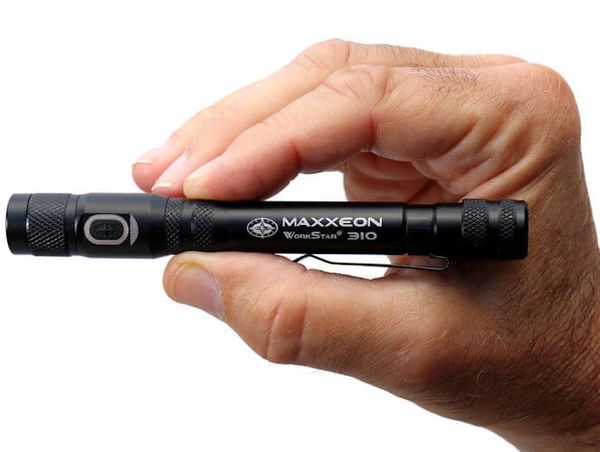 WorkStar® 310 LED Penlight/Inspection Light
Product Summary: 170 lm, 2xAAA alkaline batteries, 3X zoom lens
The MAXXEON WorkStar® 310 is a professional, 2xAAA battery, LED penlight/inspection light that produces 170 lumens, features a Cree XP-G3 LED and 3X zoom lens, it runs for 35 minutes and it is competitively priced.
The powerful 170 lm beam is controlled by a 3X zoom lens which offers a bigger and brighter beam to illuminate your work, plus the flexibility to narrow the beam width for distance or tight spaces. The side mounted On/Off switch is located right under your thumb for ease of operation. It uses constant current electronics to extract the maximum run time from 2 AAA alkaline batteries.
The WorkStar® 310 professional, LED penlight/inspection light is designed for daily use by technicians in demanding shop, manufacturing and maintenance environments. The tough aluminum body is anodized black and is virtually indestructible. All threaded joints have rubber O-ring seals so it is IP67, dust tight & waterproof to 3 ft. The rugged nose mounted switch is rated at 100,000 cycles and is sealed to avoid contamination by dirt and grit. It is 5" long, 5/8" in diameter and weighs 2 ounces.
The WorkStar® 310 has a 1 year warranty against manufacturing defects.
Featured Products